ICD Brookfield Place and Tabari Artspace will present the 'Postmordial Soup' group exhibition from October 5 to October 20. Helmed by creative geniuses Talal Al Najjar, Ziad Al Najjar, and Miramar Al Nayyar, it promises to be a fine showcase of great art that captivates and engages the sense.
'Postmordial Soup' is poised to be a unique, immersive experience that delves into the origins of life and the influence of the ever-evolving contemporary condition. The artists, through their cross-dimensional mediums, create an otherworldly space that blurs the lines between the familiar and the extraterrestrial. Through 'Postmordial Soup', they will explore thought-provoking themes such as temporal collapse, the interplay between familiar and foreign, and the connections between the physical, natural, and digital realms.
Ahead of the 'Postmordial Soup' exhibition, we discussed with Miramar, Talal and Ziad about their artistic journeys, their upcoming exhibition and what they would teach young and aspiring artists around the world.
Miramar Al Nayyar
١. Can you tell us more about your journey to becoming an artist?
It unfolded quite naturally and spontaneously for me, driven by a profound urge to express intense emotions. Now, it has become a valuable tool for me to explore both my inner and outer self.
٢. Are there any artists or art movements that have greatly influenced your style and approach to art?
To be honest, I never really had a specific idol or a particular art movement that influenced me while growing up. Instead, I tend to immerse myself in nature and how it has shaped human creations. Currently, I find myself deeply inspired by natural formations, especially nude landscapes like rock formations and deserts. I'm fascinated by the constant transformative force that shapes these formations, which aligns with my creative exploration centred around movement.
٣· Your art blurs the line between different disciplines – from oil glazing to the thin layering of wet-on-wet paint and airbrushing. Can you tell us about your interdisciplinary approach and what it brings to your work?
My interdisciplinary approach stems from my perspective on tools and techniques, seeing them as more than their intended functions. This enables me to reimagine their purpose, repurposing existing tools rather than creating entirely new ones to achieve my creative goals. I believe in the act of defamiliarizing what's familiar, and to accomplish that within the artwork, it's essential to also transform the familiar processes, including the tools employed.
٤. What would be your piece of advice to young artists?
Be constant and keep taking risks in your art. Drive your art to new territories and know when to take a break. Think of art as an endless vehicle for exploration.
Talal Al Najjar
١. Can you tell us about your artistic journey and how you first discovered your passion for art?
"I was encouraged to create art from a very young age by my mother, Solimar Miller, who is also a practising artist. So growing up, my brother Ziad and myself (sic) were constantly engaged in art making, and started publicly exhibiting when I was still in high school. I then pursued my degrees in art, receiving a Bachelor of Fine Art from the School of the Art Institute of Chicago, and my Master of Fine Art from ArtCenter College of Design in California, both of which encouraged the interdisciplinary aspect of my practice."
٢. Describe your creative process. Do you have any unique rituals or routines that help you get into the artistic flow?
"A lot of my practice consists of (over)thinking and reading, mainly theoretical, historical or anthropological texts that inform my work and ideas. Sometimes I plan works, but I also impulsively and intuitively create things when I'm in the studio, too. I think it's good to challenge yourself in the studio, to keep your own mind working and branching out and having new ideas that involve risk-taking as well. I also tend to work late at night, rather than early mornings. I also think socializing and seeing other art is important for an art practice in general, and both being engaged within art communities or non-art related communities."
٣· Could you share some details about your favourite or most memorable art piece? What does it mean to you, and what story does it tell?
"Not a specific piece, but my Master's thesis exhibition, titled 'Petro-Ghareebo: NAUSEA', which was quite manically and obsessively produced. I intentionally wanted to create a space and feeling that was simultaneously overstimulating or nauseating, but also comfortable and familiar. It was overcrowded with works, that made viewers have to sidestep works to not fall and navigate the space, which then makes a viewer hyper-aware of their own presence in relation to the works. It included sculptures, paintings, video projections of CGI animations, illusionary holograms, dark and coloured lighting, and constant sound. Every wall was visually in motion and tinted. I wanted to approach it with a world-building idea rather than a traditional salon-style exhibition. To create an immersive experience, as opposed to a clinically sterile or bland one."
٤· What would be your piece of advice to young artists?
Be genuine and true to yourself and your vision. Authenticity is integral for an artist. Make the work YOU want to create, rather than making work for others' approval or validation.
Ziad Al Najjar
١. Your art has a distinctive style. How did you develop this unique aesthetic, and what do you hope viewers take away from it?
It's definitely a style that has developed over the past couple of years, I was interested in the process of mark-making and patterning initially, and over time, it has progressively evolved and become more intricate. From colour fields of small marks which at times create larger forms, the idea of obscuring visual spaces and colour compositions within an artwork forces a viewer to have to navigate their own vision and body to investigate a work. With this upcoming show, Postmordial Soup, I'm really considering the body in my work as a confronting subject of our own physicality, mortality, and even sanctity.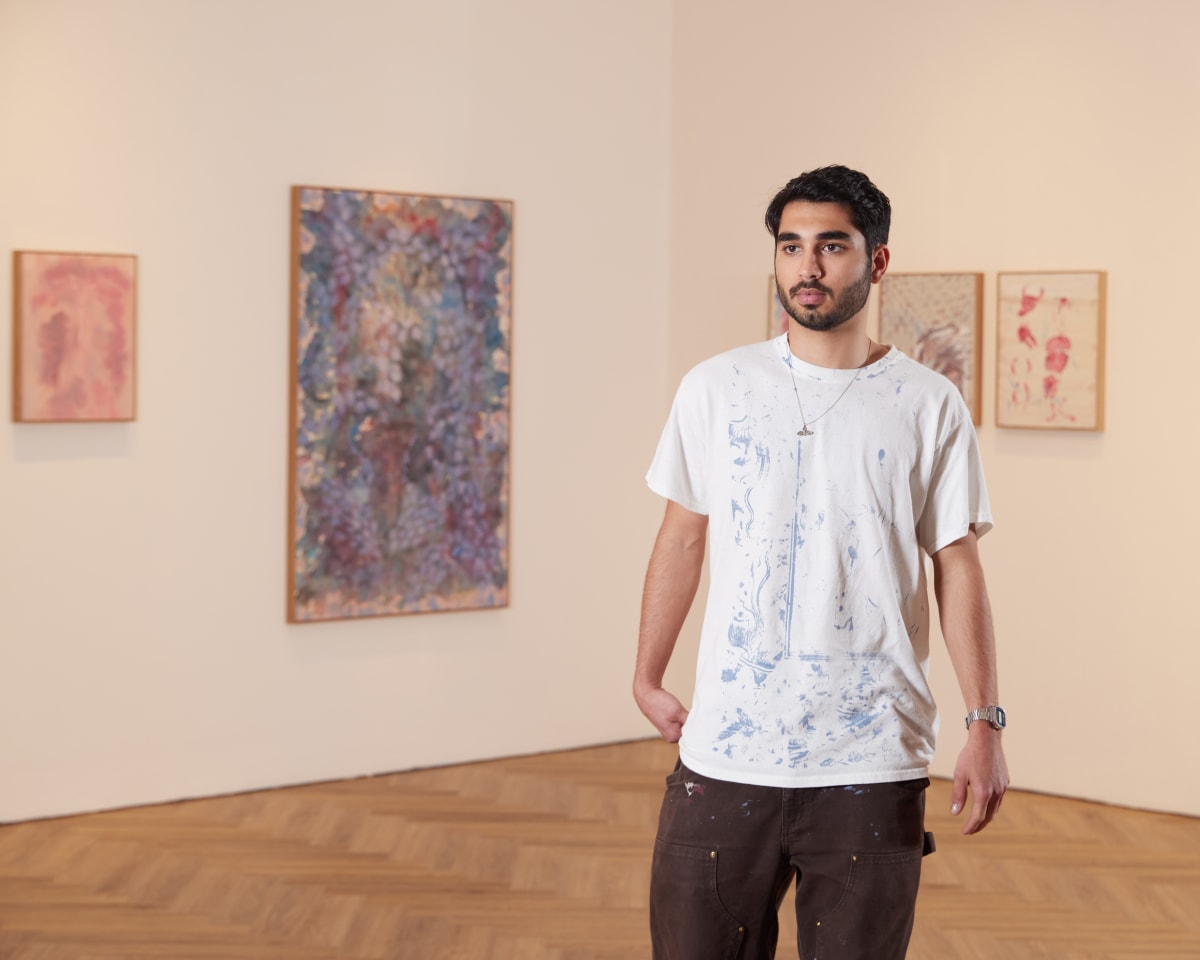 ٢. What role does art play in your life beyond the creative process? How do you stay connected with the art community and art enthusiasts?
There are different things I like doing. Going to different shows, seeing the works of friends and other artists, (and) engaging in social settings and events. There are a lot of different ways I stay connected, but in a less direct sense, like engaging with people who aren't a part of that community also is as important in experiencing and observing the way art plays in life outside of art scenes themselves.
٣. Looking ahead, what are your aspirations and dreams for your art, and how do you envision your work evolving in the coming years?
I don't really ever have a definitive answer to this question, I really just follow the process one day at a time. The things I imagined I would be doing today aren't comparable to what I imagined a year ago. There are a lot of things I aspire towards, but there are always different factors which change the trajectory of that evolution, which I gladly embrace.
٤. What would be your piece of advice to young artists?
To be genuine! To have the integrity to create the work you envision seeing in the world and not folding to certain pressures or expectation. If you're creating work that you think people want to see rather than thinking of what you want to see, then what's the point? What makes a person an artist, I think, is when one can be confident enough in their own ideas and the work they're making.
'Postmordial Soup' opens on October 5th and will be a night of immersive artistic experience, light bites, beverages, and some tunes by Motion and Bazzzuk.
The show begins at 7:00 pm inside The Space, Level 1, ICD Brookfield Place.
For more information on 'Postmordial Soup', follow @tabari_artspace